I've been flat out with a couple of contracting projects recently - apologies for the four-month blogging hiatus!
One of these projects (albeit a quickie) was a weekend spent making a rails site for a couple of New Zealand organizations to help the victims of the Japanese quakes and tsunami relocate themselves and/or their children to New Zealand temporarily.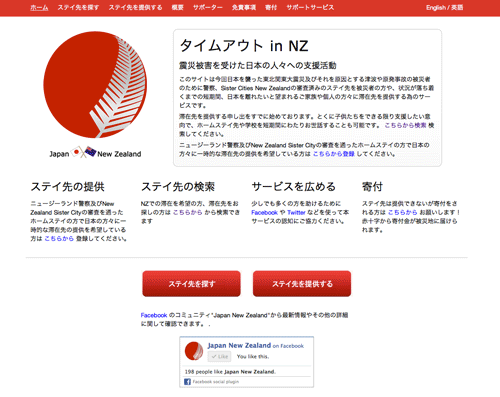 There's quite a few big names backing it (both in New Zealand and Japan), and when I was approached about doing the site it seemed like the perfect opportunity to give something back to the people of Japan, who've been kind enough to give me visas and keep me employed for the past seven years :)
It was built on top of Rails Kitchen Sink (shameless plug) and took most of a weekend to get the main functionality in, with a few more evenings of tweaking as requirements solidified a little.
The good folks at Heroku were kind enough to provide 6 months free hosting (with extra dynos on top of the free plan), so the whole initiative has only cost a few hours of my time, plus a few hours for Toshi at Second Drip who was kind enough to do the Japanese translation.
If any of you are in New Zealand, feel free to sign up and help out!